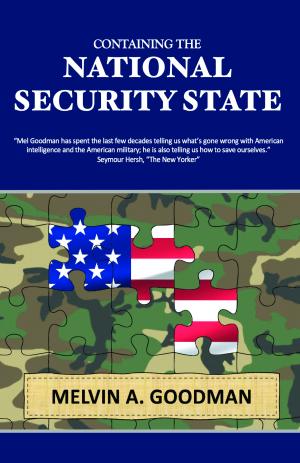 Book Party Zoom with Mel
As many of you know, Mel Goodman has a new, recently published book out entitled Containing the National Security State. This book represents more than 100 of his editorials that assess the militarization of U.S. governance and U.S. foreign policy. These articles describe the bloated defense spending of the United States; the billions of dollars wasted on fool's errands abroad; the unnecessary modernization of U.S. nuclear weapons; and the intense operational tempo of the military that is leaving our domestic priorities without adequate resources. President Dwight D. Eisenhower's warning about the "military-industrial-congressional complex" has never been more frightening. These editorials suggest what is needed to be done to reverse the damage of the past 20 years.

In a couple of weeks, it will be four years since we held a book-signing party at our home for Mel's last book, Whistleblower at the CIA. Unfortunately, due to Covid, we are unable to host another book-signing party at our home right now.
However, we would like to invite you to join us for an exciting and interesting evening zoom party with Mel to discuss his new book and answer any questions you may have.
Below please find the link to purchase the book through its publisher, Politics, and Prose. Scheduling the zoom party 6 weeks in advance should give everyone sufficient time to purchase the book, read it, and, if interested, submit questions for Mel.
https://www.politics-prose.com/book/9781624293207
Once you RSVP, we will send you a link.
Laurie and Bruce Lyons
(301) 332-7930
Recent News and Latest Book
Biden and the Washington Post Combine to Argue for War
"Militarily," according to Ignatius, the "Israeli campaign against Hamas has been relentless and successful."   This outrageous statement is belied by the absence of evidence regarding the so-called command and control center under the Al-Shifa hospital compound, let alone any success against the Hamas leadership or overall Hamas forces.
Is There No End to the War-Mongering of the Washington Post
It is increasingly clear that the Russian campaign against Ukraine and the Israeli campaign against Gaza are violating international law and the essential tenets of just war.  Neither Russia nor Israel is making the required distinctions between combatants and non-combatants, and the excessive use of force on both battlefields is a violation of the need for proportionality in warfare.  Russian and Israeli military forces are targeting civilian infrastructure and even civilians themselves.