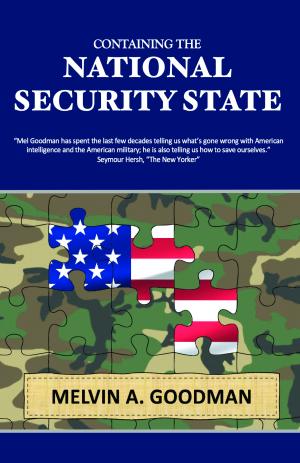 Book Party Zoom with Mel
As many of you know, Mel Goodman has a new, recently published book out entitled Containing the National Security State. This book represents more than 100 of his editorials that assess the militarization of U.S. governance and U.S. foreign policy. These articles describe the bloated defense spending of the United States; the billions of dollars wasted on fool's errands abroad; the unnecessary modernization of U.S. nuclear weapons; and the intense operational tempo of the military that is leaving our domestic priorities without adequate resources. President Dwight D. Eisenhower's warning about the "military-industrial-congressional complex" has never been more frightening. These editorials suggest what is needed to be done to reverse the damage of the past 20 years.

In a couple of weeks, it will be four years since we held a book-signing party at our home for Mel's last book, Whistleblower at the CIA. Unfortunately, due to Covid, we are unable to host another book-signing party at our home right now.
However, we would like to invite you to join us for an exciting and interesting evening zoom party with Mel to discuss his new book and answer any questions you may have.
Below please find the link to purchase the book through its publisher, Politics, and Prose. Scheduling the zoom party 6 weeks in advance should give everyone sufficient time to purchase the book, read it, and, if interested, submit questions for Mel.
https://www.politics-prose.com/book/9781624293207
Once you RSVP, we will send you a link.
Laurie and Bruce Lyons
(301) 332-7930
Recent News and Latest Book
A Costly and Prolonged Cold War Now Seems a Certainty
No one knows how the war in Ukraine will end, but there is one post-war certainty: there will be a prolonged and costly Cold War between the United States and Russia.  In an interview with David Ignatius of the Washington Post, who has been doing the bidding of the Pentagon and the Central Intelligence Agency for several decades, Secretary of State Antony Blinken emphasized the importance of a "long-term goal of deterrence."  Ignatius took this to mean that the Biden administration will make sure that Russia "should not be able to rest, regroup and reattack."
Commentary: This former CIA analyst has something to say about the classified documents crisis — and it's likely not what you think
The former involved Trump's intentionally keeping large amounts of classified material at Mar-a-Lago; the latter led to small amounts of intelligence at Biden's former office and his home, as well as in Pence's home. Since I held high-level security clearances for more than four decades while in the Army, Central Intelligence Agency, Department of State and Department of Defense, I have something to offer on the issue of secrets and secrecy.