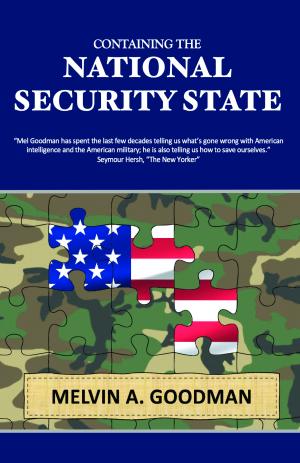 Book Party Zoom with Mel
As many of you know, Mel Goodman has a new, recently published book out entitled Containing the National Security State. This book represents more than 100 of his editorials that assess the militarization of U.S. governance and U.S. foreign policy. These articles describe the bloated defense spending of the United States; the billions of dollars wasted on fool's errands abroad; the unnecessary modernization of U.S. nuclear weapons; and the intense operational tempo of the military that is leaving our domestic priorities without adequate resources. President Dwight D. Eisenhower's warning about the "military-industrial-congressional complex" has never been more frightening. These editorials suggest what is needed to be done to reverse the damage of the past 20 years.

In a couple of weeks, it will be four years since we held a book-signing party at our home for Mel's last book, Whistleblower at the CIA. Unfortunately, due to Covid, we are unable to host another book-signing party at our home right now.
However, we would like to invite you to join us for an exciting and interesting evening zoom party with Mel to discuss his new book and answer any questions you may have.
Below please find the link to purchase the book through its publisher, Politics, and Prose. Scheduling the zoom party 6 weeks in advance should give everyone sufficient time to purchase the book, read it, and, if interested, submit questions for Mel.
https://www.politics-prose.com/book/9781624293207
Once you RSVP, we will send you a link.
Laurie and Bruce Lyons
(301) 332-7930
Recent News and Latest Book
The USS Liberty: a Well-Planned Accident
Today marks the 56th anniversary of the Israeli attack on the USS Liberty, which has been described by too many U.S. and Israeli accounts as an accident.  In fact, the attack took place after eight hours of aerial surveillance by Israel, and it involved a two-hour air and naval attack that killed 34 sailors and wounded an…
The Mainstream Media's Unwillingness to Challenge U.S. Militarization
The Post regularly states that the United States spends as much on defense as the next 10 or 11 nations combined, but the cruel fact is that we spend as much as all other nations combined.  The global total for defense spending is around $2.5 trillion, and U.S. defense spending exceeds $1.2 trillion. The Pentagon's budget for next year is $886 billion, but that is not the full extent of defense spending.  The budget for the Veteran's Administration is over $120 billion, which takes total defense spending to more than $1 trillion.  There is significant defense spending in the budgets of the intelligence community, the Department of Energy, and the Department of Homeland Security, bringing total defense spending to at least $1.2 trillion.