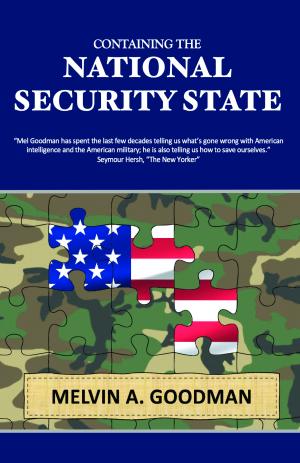 Book Party Zoom with Mel
As many of you know, Mel Goodman has a new, recently published book out entitled Containing the National Security State. This book represents more than 100 of his editorials that assess the militarization of U.S. governance and U.S. foreign policy. These articles describe the bloated defense spending of the United States; the billions of dollars wasted on fool's errands abroad; the unnecessary modernization of U.S. nuclear weapons; and the intense operational tempo of the military that is leaving our domestic priorities without adequate resources. President Dwight D. Eisenhower's warning about the "military-industrial-congressional complex" has never been more frightening. These editorials suggest what is needed to be done to reverse the damage of the past 20 years.

In a couple of weeks, it will be four years since we held a book-signing party at our home for Mel's last book, Whistleblower at the CIA. Unfortunately, due to Covid, we are unable to host another book-signing party at our home right now.
However, we would like to invite you to join us for an exciting and interesting evening zoom party with Mel to discuss his new book and answer any questions you may have.
Below please find the link to purchase the book through its publisher, Politics, and Prose. Scheduling the zoom party 6 weeks in advance should give everyone sufficient time to purchase the book, read it, and, if interested, submit questions for Mel.
https://www.politics-prose.com/book/9781624293207
Once you RSVP, we will send you a link.
Laurie and Bruce Lyons
(301) 332-7930
Recent News and Latest Book
The Strategic Nightmare That Follows the "Forever War"
One of these days, the "forever war" between Russia and Ukraine will be over, and the serious challenge of dealing with the strategic triangularity of the United States, Russia, and China will begin.  The Biden administration has complicated this task by pursuing a strategy of "dual containment," believing that the United States can "contain" both Russia and China.  Unlike the Soviet Union of the Cold War era, China cannot be "contained."  It is a global economic and political power as well as a formidable military power in the Indo-Pacific region.
When Difi Took on the CIA Over Torture
Very few senators have been willing to tackle the excesses within the intelligence community, but Senator Dianne Feinstein (D/CA) has been a heroic exception to that rule.  Liberals and civic libertarians were a major part of Barack Obama's constituency when he ran for president in 2008, and they had a right to expect his administration to investigate the CIA's program of torture and abuse.