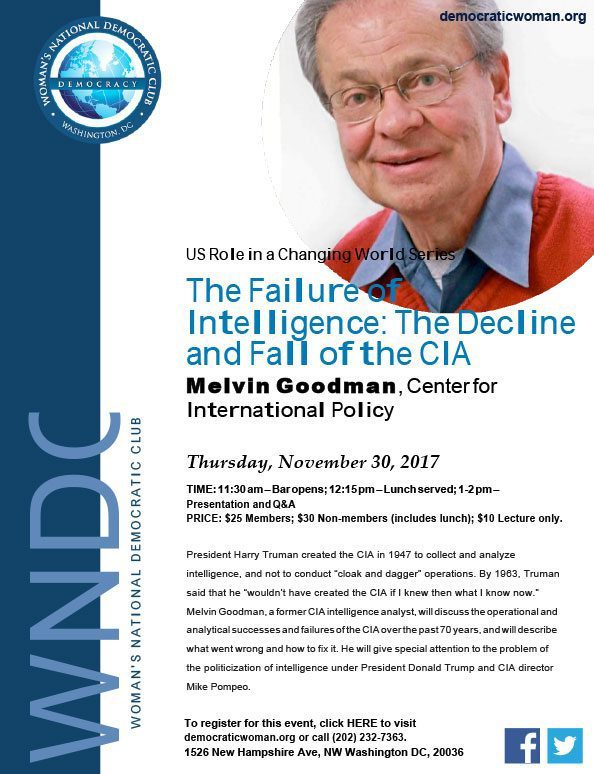 Woman's National Democratic Club
Download The Flyer Here
TIME:
11:30 am – Bar opens;
12:15 pm – Lunch served;
1-2 pm – Presentation and Q&A
PRICE:
$25 Members;
$30 Non-members (includes lunch);
$10 Lecture only.
President Harry Truman created the CIA in 1947 to collect and analyze intelligence, and not to conduct "cloak and dagger" operations. By 1963, Truman said that he "wouldn't have created the CIA if I knew then what I know now." Melvin Goodman, a former CIA intelligence analyst, will discuss the operational and analytical successes and failures of the CIA over the past 70 years, and will describe what went wrong and how to fix it. He will give special attention to the problem of the politicization of intelligence under President Donald Trump and CIA director Mike Pompeo.
Recent News and Latest Book
China's Foreign Policy: Lessons for the United States
The United States currently lacks diplomatic relations with two of its most important adversaries: Iran and North Korea.  Washington has serious bilateral issues with both Tehran and Pyongyang, although there is ample evidence that both Iran and North Korea are willing to pursue a dialogue with the United States.  The nuclear issue alone should convince Washington of the need for consultation, dialogue, and diplomatic recognition of adversaries.
The United States and Human Rights: a History of Hypocrisy
The United States is a human rights hypocrite.  No country has been more aggressive in lecturing others about human rights and no country has been less willing to take part in international efforts to halt crimes against the peace or even genocide.  The United States has been one of the major obstacles in the creation of an international military force under the auspices of the United Nations to prevent "crimes against the peace."