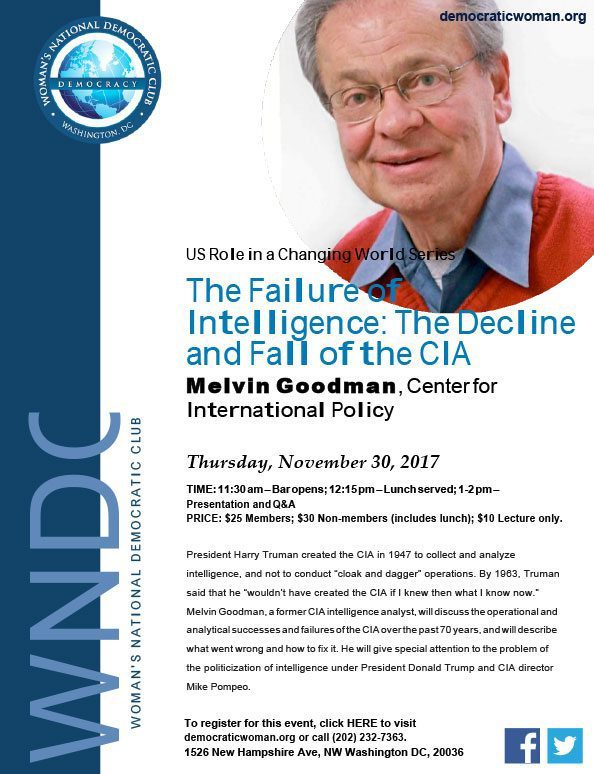 Woman's National Democratic Club
Download The Flyer Here
TIME:
11:30 am – Bar opens;
12:15 pm – Lunch served;
1-2 pm – Presentation and Q&A
PRICE:
$25 Members;
$30 Non-members (includes lunch);
$10 Lecture only.
President Harry Truman created the CIA in 1947 to collect and analyze intelligence, and not to conduct "cloak and dagger" operations. By 1963, Truman said that he "wouldn't have created the CIA if I knew then what I know now." Melvin Goodman, a former CIA intelligence analyst, will discuss the operational and analytical successes and failures of the CIA over the past 70 years, and will describe what went wrong and how to fix it. He will give special attention to the problem of the politicization of intelligence under President Donald Trump and CIA director Mike Pompeo.
Recent News and Latest Book
A Costly and Prolonged Cold War Now Seems a Certainty
No one knows how the war in Ukraine will end, but there is one post-war certainty: there will be a prolonged and costly Cold War between the United States and Russia.  In an interview with David Ignatius of the Washington Post, who has been doing the bidding of the Pentagon and the Central Intelligence Agency for several decades, Secretary of State Antony Blinken emphasized the importance of a "long-term goal of deterrence."  Ignatius took this to mean that the Biden administration will make sure that Russia "should not be able to rest, regroup and reattack."
Commentary: This former CIA analyst has something to say about the classified documents crisis — and it's likely not what you think
The former involved Trump's intentionally keeping large amounts of classified material at Mar-a-Lago; the latter led to small amounts of intelligence at Biden's former office and his home, as well as in Pence's home. Since I held high-level security clearances for more than four decades while in the Army, Central Intelligence Agency, Department of State and Department of Defense, I have something to offer on the issue of secrets and secrecy.