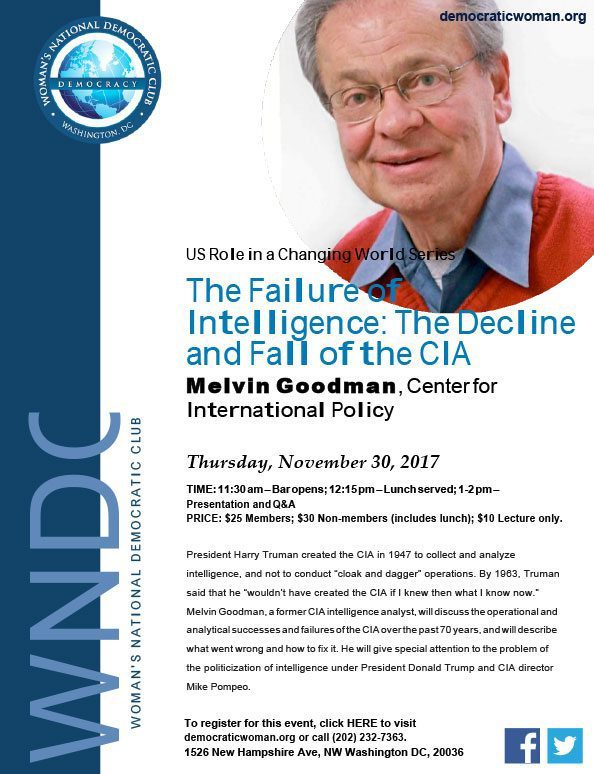 Woman's National Democratic Club
Download The Flyer Here
TIME:
11:30 am – Bar opens;
12:15 pm – Lunch served;
1-2 pm – Presentation and Q&A
PRICE:
$25 Members;
$30 Non-members (includes lunch);
$10 Lecture only.
President Harry Truman created the CIA in 1947 to collect and analyze intelligence, and not to conduct "cloak and dagger" operations. By 1963, Truman said that he "wouldn't have created the CIA if I knew then what I know now." Melvin Goodman, a former CIA intelligence analyst, will discuss the operational and analytical successes and failures of the CIA over the past 70 years, and will describe what went wrong and how to fix it. He will give special attention to the problem of the politicization of intelligence under President Donald Trump and CIA director Mike Pompeo.
Recent News and Latest Book
The Strategic Nightmare That Follows the "Forever War"
One of these days, the "forever war" between Russia and Ukraine will be over, and the serious challenge of dealing with the strategic triangularity of the United States, Russia, and China will begin.  The Biden administration has complicated this task by pursuing a strategy of "dual containment," believing that the United States can "contain" both Russia and China.  Unlike the Soviet Union of the Cold War era, China cannot be "contained."  It is a global economic and political power as well as a formidable military power in the Indo-Pacific region.
When Difi Took on the CIA Over Torture
Very few senators have been willing to tackle the excesses within the intelligence community, but Senator Dianne Feinstein (D/CA) has been a heroic exception to that rule.  Liberals and civic libertarians were a major part of Barack Obama's constituency when he ran for president in 2008, and they had a right to expect his administration to investigate the CIA's program of torture and abuse.