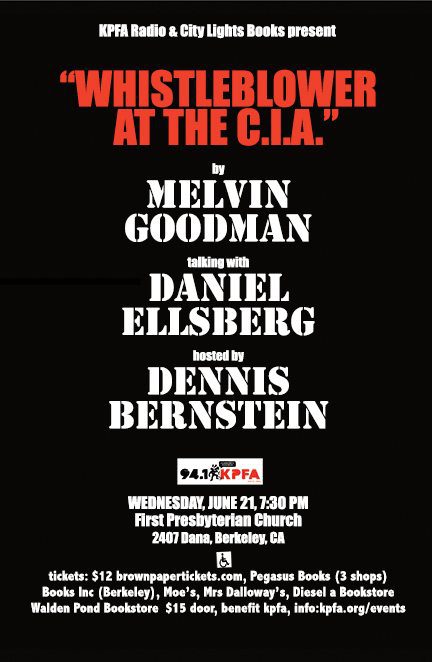 KPFA Radio and City Light Presents: Whistleblower at the C.I.A.
KPFA and City Lights Books present "Whistleblower at the C.I.A. "by Mel Goodman and talking with Daniel Ellsburg, hosted by Dennis Bernstein.
Advance Tickets $12
Purchase in advance at brownpapertickets.com, Pegasus Books (3 locations), Books Inc. (Berkeley), Moe's, Mrs Dalloway's, Diesel a Bookstore, Walden Pond Bookstore
Ticket $15 at door
This is a KFPA benefit info at https://kpfa.org/event/melvin-goodman-daniel-ellsberg/
Recent News and Latest Book
Biden and the Washington Post Combine to Argue for War
"Militarily," according to Ignatius, the "Israeli campaign against Hamas has been relentless and successful."   This outrageous statement is belied by the absence of evidence regarding the so-called command and control center under the Al-Shifa hospital compound, let alone any success against the Hamas leadership or overall Hamas forces.
Is There No End to the War-Mongering of the Washington Post
It is increasingly clear that the Russian campaign against Ukraine and the Israeli campaign against Gaza are violating international law and the essential tenets of just war.  Neither Russia nor Israel is making the required distinctions between combatants and non-combatants, and the excessive use of force on both battlefields is a violation of the need for proportionality in warfare.  Russian and Israeli military forces are targeting civilian infrastructure and even civilians themselves.